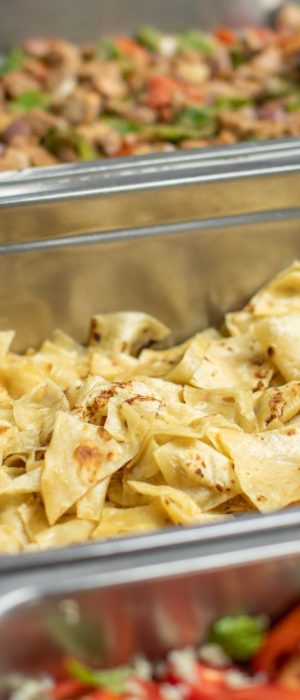 Lunches are provided and are compulsory for students up to and including Year 9. Students in Year 10 and above may choose to either enjoy school-provided lunches or bring their own. It's important to note that our cafeteria exclusively serves Halal meats, and pork is not offered.
Kindergarten students eat outside their classrooms on the tables provided, and classes in Reception through Year-11 eat in one of the two school dining areas.
The lunch timings are as follows:
KG –

 11:50am

Reception-Year 6 –

 11:50am – 12:30pm

Years 7 –

 12:35pm – 1:25pm
The School lunch menu is rotated throughout each term and it has been designed to offer a balanced diet catering for many dietary requirements. There are meat and vegetarian options each day except Wednesday, when all students are offered a vegetarian meal, to encourage healthy eating habits. We also provide fruit daily, with 2 additional desserts each week. Our canteen team are highly experienced and operate under conditions similar to those found in quality hotels.
The kitchen is on view to all and forms a part of the serving area in the main dining area used by Year 3 and above. Amendments to menus are sometimes necessary when the required fresh ingredients are not available from the market on a particular day.
Suitable alternatives are provided in these circumstances to ensure that we serve fresh, well-balanced meals to all our students. Meals are accompanied by fresh vegetables, rice, pasta or potatoes.
Veggies & Salad

Non- Vegetarian

Vegetarian

Side Dish

Dessert

Veggies & Salad

Non- Vegetarian

Vegetarian

Side Dish

Dessert

Veggies & Salad

Non- Vegetarian

Vegetarian

Side Dish

Dessert

Veggies & Salad

Non- Vegetarian

Vegetarian

Side Dish

Dessert

Veggies & Salad

Non- Vegetarian
Fried Fish in Oyster Sauce
Vegetarian

Side Dish

Dessert